Board game reviewers tend to like to reveal their opinions gradually. Teasing you with rules and mechanisms they gradually break the game down until they eventually go into their impressions, then hit you with the payoff of that tasty, tasty opinion at the end. I'm not going to do that with this review because Don't Mess With Cthulhu is my favorite social deduction game. Full stop. I won't even pretend it isn't. My enthusiasm CANNOT BE CONCEALED.
I've played this game 100+ times over the course of its many releases. No exaggeration. Time Bomb, Don't Mess with Cthulhu, the Iello version of Time Bomb where they themed it with Sherlock Holmes, TimeBomb Evolution, etc. The only version I haven't laid hands on is Tempel des Schreckens and mechanically it's slightly different, but I'm pretty sure at this point I get the gist. Regardless of your sensibilities I can guarantee that there's an edition that'll visually appeal to you. Our favorite has been DMWC because my wife isn't a fan of the original terrorist theme and IB&C really outdid themselves with the art in this, so when they offered to supply a copy of the deluxe edition for review I immediately accepted.
(ADDENDUM: As I was adding the images for this review I learned that there's a Korean version of this game titled "NO TOUCH KRAKEN". This sent me into a laughter spiral that I was not prepared for because the piece you pass around to investigate other players is a happy pirate lobster for some reason and I love him. I'm not making this up! Look!)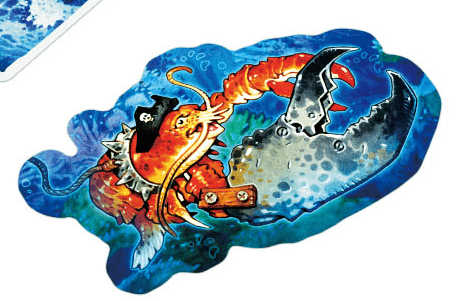 The goal of this review isn't to determine whether or not you should play this game. I absolutely think you should. Instead I'm going to be focusing on the "Deluxe" part of this box. My understanding is that these modules were in the original Kickstarter version of the game and this is their retail premiere, so if you were in at the ground floor (and I was not) you're probably already good. For the rest of us there are 3 things in this box that weren't in the original release and I'm going to dig into each in depth.


DMWC Deluxe supports 4-8 players instead of the standard 4-6. Normally just adding player components to a game is a recipe for imbalance and disaster, but here it's just an improvement because the system has no issues adjusting for 2 more bodies. Playing an entire table of people is an absolute blast. Accusations of multi-person conspiracy will abound. It's one of the best party games you can play thanks to its simple rules and social nature. I'm glad there's a boxed edition that supports it without needing to mock up a solution, because I've absolutely done that before. It was worth it, but now I never have to again. Moving on.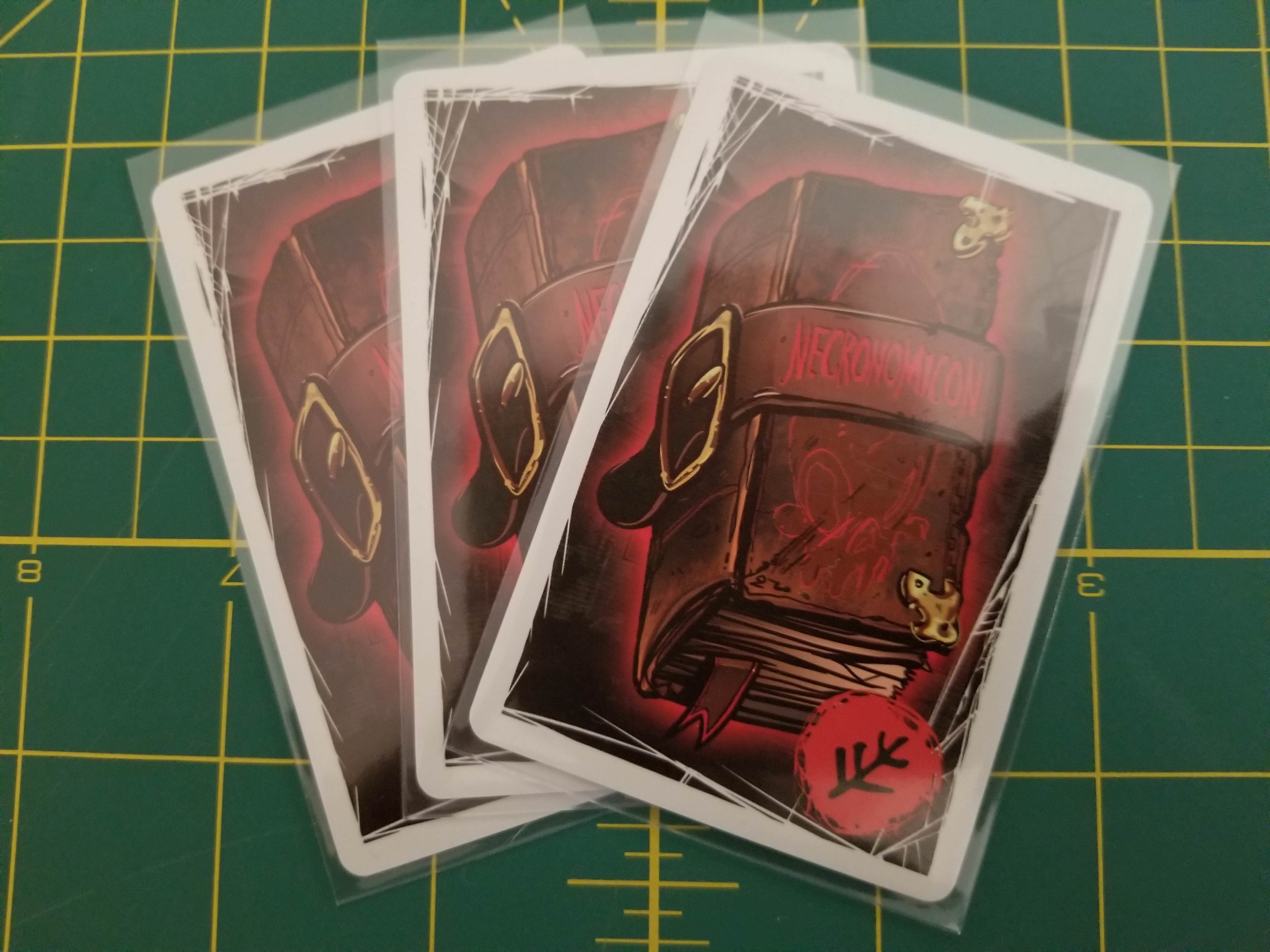 The Necronomicon expansion requires a little setup. You add a certain number of elder signs and necronomicons to the deck depending on player count, then shuffle up the remainder to add the rest so nobody knows exactly what the sign:book ratio is. The investigators need to locate an elder sign before they find any of the necronomicons, otherwise they lose. Once an elder sign has been pulled they can safely pull the books, and if they find all the signs/books they win.
I found this module underwhelming. The setup isn't difficult but it adds another step to the setup and teardown between rounds (we never play this game just once) since you have to pull all the signs/books for the shuffle. For your effort you get…a game that's just easier for the cultists? The investigators don't get anything interesting in return. We've never found the cultists to have a particularly hard time or rough win ratio, so it just felt off.
However, there IS a very good use for these cards. It isn't in the rulebook, but you can ditch Cthulhu and play the Tempel des Schreckens ruleset with the books. It's a fun change of pace! I would recommend doing that instead.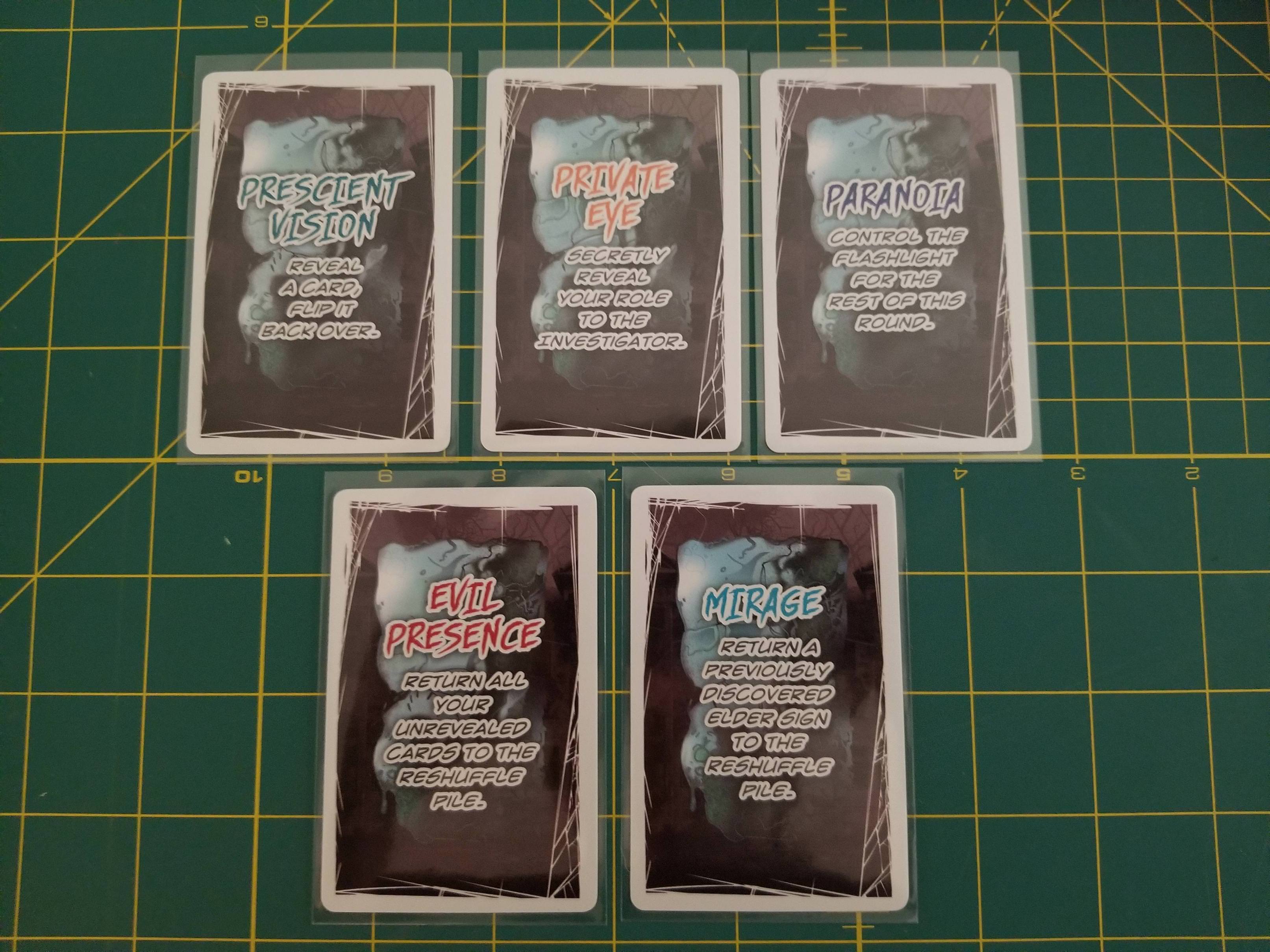 The Objects of Power replace 5 of the blanks in the deck. You shuffle them up and add all but 1 to the deck. 5 of them are effects that fire upon being pulled by the active player and shake the game up in all sorts of ways. The 6th card, though. The 6th card is Insanity's Grasp. We need to talk about Insanity's Grasp because it fundamentally changes the game and I absolutely love it.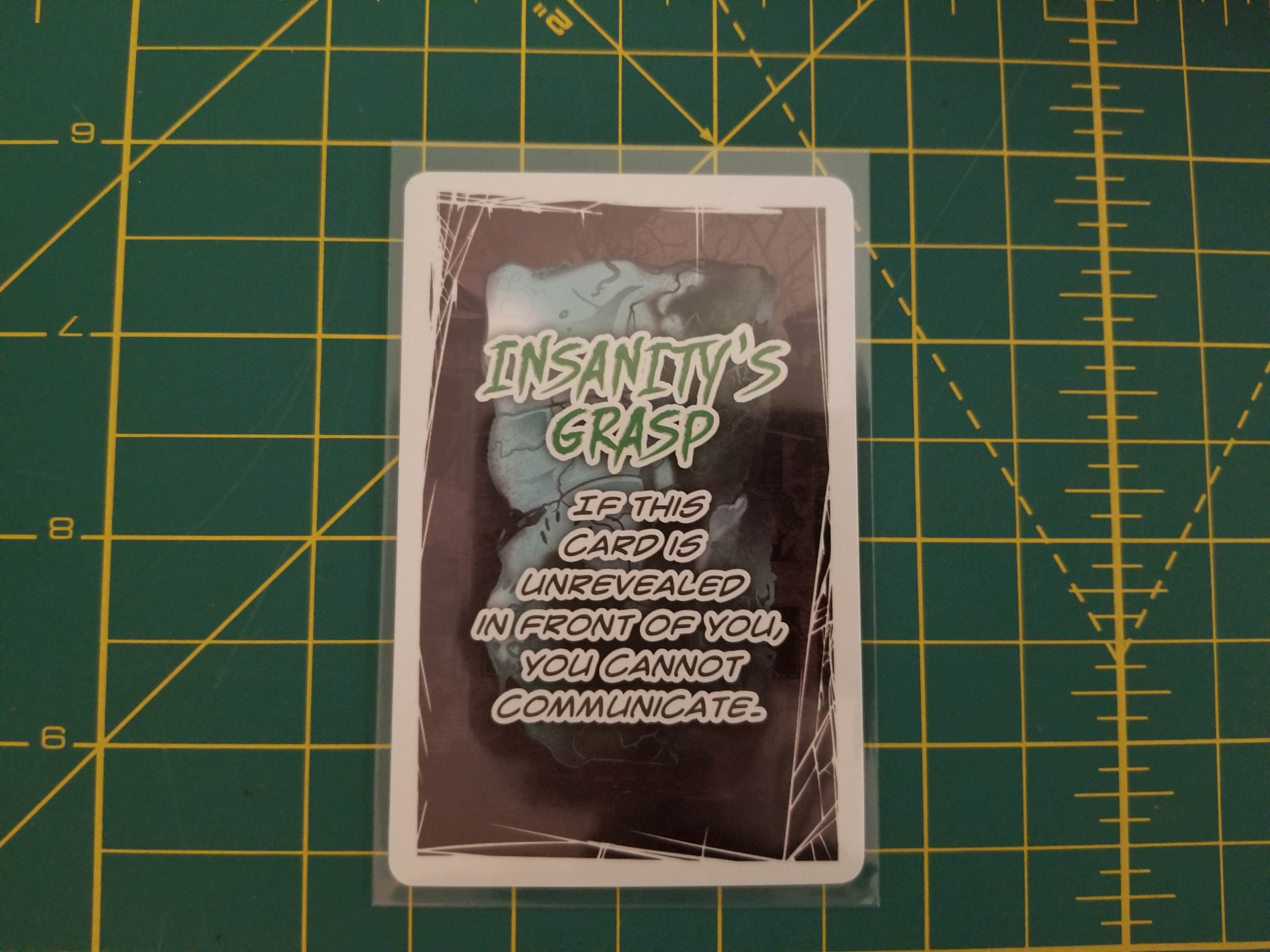 Insanity's Grasp does nothing on reveal, but if you have it in front of you you cannot communicate. This means no words, no forceful gestures, nothing. Do your best Mysterium ghost or Deception forensic impression and shut up. You would think this would be crippling in a game this social, and it is! Horribly so! But it does more than randomly kneecap people – it provides a new way to lie.
Refusing to disclose your cards in DMWC is a really risky play. Regardless of your team or your intent, nobody is going to trust the player who's stonewalling them in a game where you can lose on a single card pull. This completely changes when a card exists that FORCES players to shut up, but the real fun of Insanity's Grasp comes out when people start LYING ABOUT HAVING IT. This works especially well when IG is the card that got left in the box, but it leads to some of the funniest moments I've ever seen from this game when it's actually in play.
Let me tell you a story about a 4 player game we played with Objects of Power. I was a cultist, and in the initial hand I was dealt two elder signs. I didn't want to be investigated, so when the active player asked me what I had I clammed up. The table's mood instantly intensified. My wife claimed she had nothing. Another friend playing claimed she had a sign. Then the last player turned, glared at me, and said nothing. Uh oh.
The second card pulled was from him, and it was Insanity's Grasp. I of course immediately claimed to have Cthulhu and that I was terrified of revealing it. One of the investigators searched me and pulled a blank, thank the elder gods. My case was sketchy but not demonstrably false. I made it to the reshuffle without giving up an elder sign.
What I couldn't have known was that the other silent player was my cultist teammate. This play let him in on my shenanigans from turn 1 and once I caught on we absolutely took the investigators for a ride. We concealed everything important, eventually got Cthulhu, and ended the world as the investigators bumbled into it.
My wife is STILL MAD about this long con to this day. She knew what I was up to but couldn't convince anyone else, and the losing pull was from her teammate that didn't trust her angry ramblings. She still periodically pings our group chat and insults me and my former teammate for our actions. Game sessions that create stories like this are few and far between. We should treasure them.

Is the new version of Don't Mess With Cthulhu truly deluxe? Nah, not really. Not as we've come to understand deluxe as game components have become increasingly extravagant. Do I recommend it then? Oh, absolutely. Without hesitation.
A more fair title for this box would be Don't Mess With Cthulhu: Definitive Edition. If you haven't picked up a version of this game before this is the one I'd suggest because there's just more of it. All three new things are positive additions, even the Necronomicon since it lets you play the only other version of the game's ruleset that I'm aware of. The Objects of Power are phenomenal and worth the price of admission on their own, and having 8 player support in the box is huge. The role tiles existed in the previous edition but they're still the best way to handle hidden roles in card games since they don't get marked or flipped without serious effort. Other versions of this system don't have them and are (mildly) worse off for it. You don't necessarily need to grab this if you own another version of the game unless you love it as much as I do, but that's a value proposition you'll have to figure out for yourself.
I said this from the beginning – this is my favorite social deduction game. Of course I'm going to say you should play it, and DMWC: Deluxe is now the best way to start. Trust me. Look at my honest face.
Disclosure: this game was provided for review by the publisher.